"The sport of Karate is fast becoming one of the most popular sports for boys, girls and adults".
Karate is universally accepted as being the ultimate form of unarmed self-defence, and due to the many benefits associated with learning Karate, it is now becoming one of the country's most popular sports for boys, girls and adults of all ages and is now being taught in many of Britain's schools as part of the government's (PESSYP) strategy. Karate has also been very successful in combating some of the many problems that are present in today's society, especially with the lack of discipline and respect that is present in many unruly teenagers within our local communities.
Parents and Teachers have discovered that Karate is effective in helping to create a more positive mental attitude among children and young people, which has the effect of aiding in character development, the benefits of Karate training allow the students to experience a journey of self discovery and awareness, where true potentials are discovered in other areas of their lives and where through the power of Karate they learn and develop vital life skills so that physical fitness, technical ability, good behaviour, discipline and respect become synonymous.
Now thanks to the brain child of former heavyweight karate champion and award winning sports coach Wayne Clarke (the chief instructor of the Hull and East Riding Karate academy) who has developed a unique and specialised Karate grading syllabus book to work in partnership with Hull and East Riding Schools, many local school children are now living healthier lifestyles and bearing the fruits (and the medals) of success from Mr. Clarkes unique approach to Karate training.
"Whether it's playing sport for fun or having the desire to become an elite athlete we provide talent development from grass roots through to the England National Karate Squad".
Competition Karate
Congratulations and very well done to the 12 students who competed in the British Karate Association Championships on 19th June. I am really pleased that so many of you are now getting into the competition side of karate.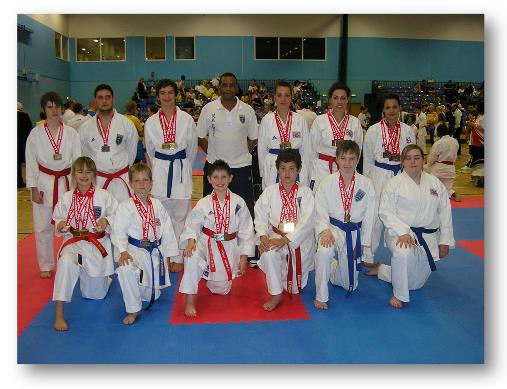 Students who competed in the British Karate Association Championships on 19th June 2011. View more photos from the event in the photo gallery.

Here are some of my thoughts about competing in competitions.

Competition Karate can be an exciting, exhilarating and very rewarding part of your karate training, as it provides a unique testing ground for the martial arts skills that you are trying to perfect by studying karate. The challenge is real, the action is real, the crowds are real and the reward is real. Training for and entering competitions can be regarded as an additional and important activity to enhance your normal karate training.

Karate is not just about fighting and neither is competition. Competing involves the development of techniques and tactics that allow you to score points over an opponent as opposed to actually striking and immobilizing a fellow competitor. Strict rules apply in the sparring events to maximize safety and minimize the risk of injury.

Competitions are the sporting arm of the karate that we promote at the Hull & East Riding karate Academy. It involves the demonstration of Kata and Kumite (Fighting), either as an individual or as a member of a team.  Many Hull & East Riding Karate Academy students are now both current and past Champions of competition karate at both local and national level.

One of the main benefits of entering competitions is that you are literally pitting your skills and your wits against opponents every time you go out on the mats to compete. As such, no two bouts or opponents are the same.

These differences add to the challenge and rising to that challenge and conquering your fears can help you in many other aspects of life. Winning inevitably makes you feel good and proud of your achievement and boosts your confidence. You cant win all the time though so at the Hull & East Riding Karate Academy students are also taught how to come to terms with loosing, but to learn from the experience in order to improve future performance.  By competing you are taking part in an activity that has the added benefits of sharpening your reactions, improving confidence and toning your mental strength.

Oh! . .  and above all, its also really  good fun  and many of the benefits come from simply taking part, learning to be a good sport and having a good time with your mates.

Sensei Wayne Clarke

<![if !vmlo]>